---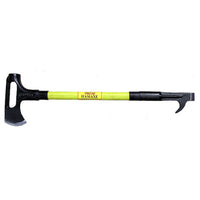 The Hamaxe Combination Tool is designed for one reason - forced entry the first time. 
It has five outstanding features.


Features:
Axe face
Hammer head
Ram bar
Chisel
Multi-purpose hook
The over-strike protector is made of cast steel making this tool virtually indestructible
Unbreakable fibreglass handle.
A perfect compliment to this tool is our Quick Fist Clamp for mounting the tool in the locker
We guarantee this tool to be unbreakable, if you break it we WILL replace it, the only condition is that the operator is still alive!!